Hello, music lovers!  My intention is to somehow attempt to please lovers of as wide a variety of music genres as possible, since I'm an eclectic listener, while at the same time showcasing my own passions as a performer to keep jazz standards and show tunes alive, as well as my favorite classical pieces.  I hope you find your visit joyful, informative, and that you come away smiling!
I can tell there are plenty of newcomers who don't know me yet, so let me catch my breath and introduce myself. If you don't feel like reading this whole thing, the play bar will give you an audio summary. If you'd like to read on, here it is. (The audio was recorded in May 2012.)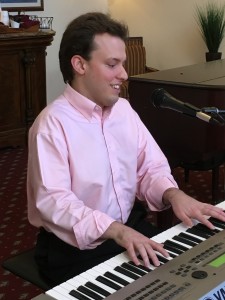 I'm Vincent Young, and I'm a self-taught keyboardist, blind since birth due to ROP. I've been into music since I was about 9 months old. Mozart's music stopped me from whatever I was doing, and I stood there shaking, entranced by what I heard coming from the stereo by way of a CD. At a year old, my Uncle Pat got me my first keyboard and I started making noise immediately. My parents still tolerate it. I also currently spend much time on the piano, but the synthesizer is my instrument of choice for now. The first recognizable piece of music I learned was Irving Gordon's composition "Unforgettable" at a year and a half, from Natalie Cole's famous album. After this, at two years old, came Vivaldi's Four Seasons, and melodies of other classical composers. At four, I was exposed to the 1940s big band sounds of Glenn Miller, the Dorsey brothers and other greats, with Miller being my favorite. Shortly after this came the works of librettist/dramatist William Schwenck Gilbert and composer Arthur Sullivan; I know practically everything they've ever written as a team, and am still rediscovering something new in their work every time, not to mention that Sullivan deserves far more recognition for his other compositions as well, both the light and the serious, which I'm continually discovering as a listener.
Following the Gilbert and Sullivan kick, I moved up a step to opera, with its tuneful source material and strong voices; this phase lasted until my sophomore year in high school, when my time in the Poway High jazz ensemble got me thinking about the repertoire known as the "Great American Songbook." An arrangement of George and Ira Gershwin's "S'Wonderful" started me on the rediscovery of artists like Frank Sinatra, Ella Fitzgerald, Bobby Darin and performers of that nature. I'd been playing for retirement homes starting at five years old in Arizona, but decided to quit because of school. These gigs resumed in the summer of 2007 in California, mainly emphasizing big band and classical. In 2008, I started incorporating the repertoire from the Great American Songbook into my act, and my audiences got on me for not singing any of these songs. So after a few attempts and the decision that my vocals needed some major work, in 2009, I started taking vocal lessons from a jazz singer, Kevyn Lettau; she has sung with Sergio Mendez and Brazil 66 for many years. Her lessons in singing and jazz vocal improvisation inspired me to listen to jazz instrumentalists to understand ideas of phrasing and other concepts. Other music interests have included participating in the Poway High School choir program from 2006 to 2008, accompanying their Gilbert and Sullivan spot in the "British Invasion" spring concert, and also taking part in the 2010 UCSD Jazz Camp as a pianist. The jazz camp was the first major endeavor that took place after graduating high school in May 2009. After the jazz camp, I attended Palomar College for four years, graduating in May of 2014 with an AA in University Studies with an emphasis in Social Science. This general-ed emphasis got me thinking in a new way, and more than ever I now enjoy learning something new every day (that rhymed!). Away from school, I've composed some of my own jazz and blues works, developed medleys of my favorites, and enjoy jamming with seasoned jazz musicians.
I'd like to be remembered either as a keyboardist who sings on the side, or a singer who plays keyboard on the side. Most importantly, I am a passionate, eclectic listener and appreciator of music in all its forms and from all cultures. Music is one of the most universal things in the world, and appreciating each genre for its own identity is more important to me than being an expert in one field. With that, ladies and gentlemen, here I am! Hello world, are you ready to rock and roll? I thought I heard you say, "Yes!"